On October 12th, we organized our first Client Day in quite a while. We would like to thank all of you who took the time to join us for this exceptional day.
The event was a unique opportunity to come together, discuss, learn, and share exciting ideas about the possibilities and the future of Media Intelligence. The workshops and discussions allowed us to discover innovative solutions and explore new perspectives. Here's a little recap:
From Media Monitoring to Media Intelligence
After a word of welcome from our Chairman Joachim Steinkuhler, CEO Arnaud Steinkuhler took visitors along on Auxipress' journey, explaining how it transformed its business and services from media monitoring to a full Media Intelligence Suite that can be tailored to any brand, organization or media trend.
"Our last Client Day was 25 years ago, so this is a truly historical moment."
Arnaud Steinkuhler, CEO
Insights During Unrest
COO Thierry Cornez followed up with a deep dive into our processes, detailing how Auxipress keeps relevancy at its highest, sharing decision-making information across organisations in times of unrest. He adequately summed up the two main assets that make up the core of what we do:
"Our AI stands for Auxipress Intelligence, the combined power of technology and human interpretation."
Thierry Cornez, COO
Ine Tassignon on Delhaize's Crisis Communication
Keynote Guest Speaker Ine Tassignon, Spokeswoman and Manager External Communication at Delhaize narrated the transformative year her company has had in 2023. She shared her experiences of using our press monitoring system to stay on top of the media storm and the intense reporting cycle that came with it.
Workshops on Universal Insights, Analysis and MediaTopiQ
During the second part of the morning, the Auxipress Solutions and Client Experience Teams welcomed participants to a workshop on our 360° Universal Insights platform. They shared tips and tricks on how to become a power user of the platform and unleash its full potential. The response from our guests was very rewarding! Our Analysis Team unveiled best-in-class methods to inspire PR campaigns and strategies, using internationally recognized AMEC methodologies. They also delved into MediaTopiQ, Auxipress' observatory of brands and trends in Belgium, exploring its many applications and possibilities, along with participants of various types of organisations.
Auxipress Roadmap
Finally, participants were invited to share their preferences and vision on the Auxipress Roadmap and product development. During lunch, everyone got the opportunity to network and give us their feedback on the activities of the day.
"Everywhere I can, I try to bring Auxipress as a partner, because I really like the collaboration, and because it goes far beyond the traditional concept of PR. Today, the world is much broader than that.."
Audrey Verhulst, Communications Director at Oona
Client Day Video
For anyone who wants to briefly relive the event, or for anyone who could not attend, we have prepared a short video with the highlights of the Client Day. This is an excellent opportunity to reminisce about the discussions that inspired you and share them with your colleagues and collaborators.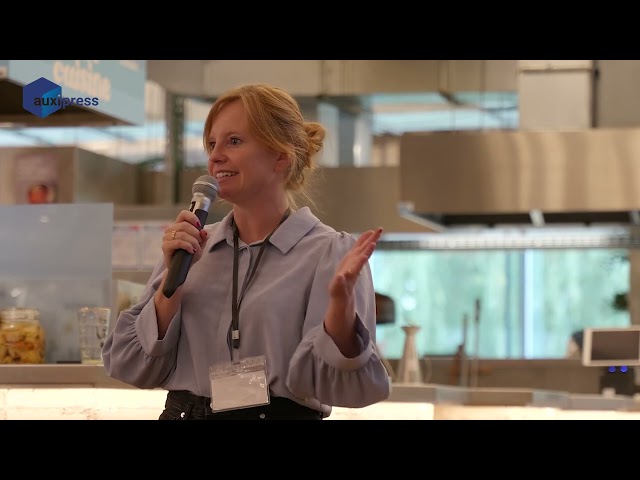 Stop by any time
Are you interested in deepening your knowledge beyond media intelligence? Would you like an update on our activities and where we are headed? Feel free to schedule a meeting to discuss it. We look forward to continuing to shape the future of your brand together. Follow us online and keep an eye on our upcoming initiatives. And thank you once again to all those who participated and supported this exceptional event!
Until the next edition!